by Dramabeans: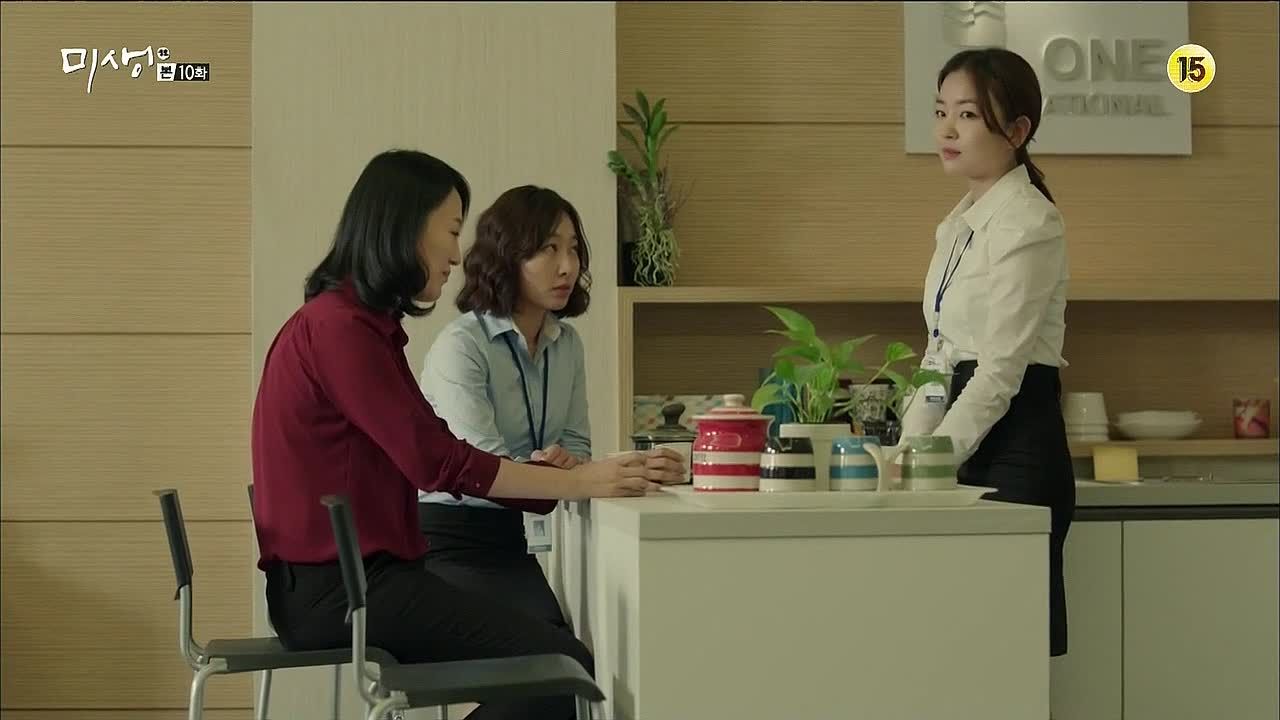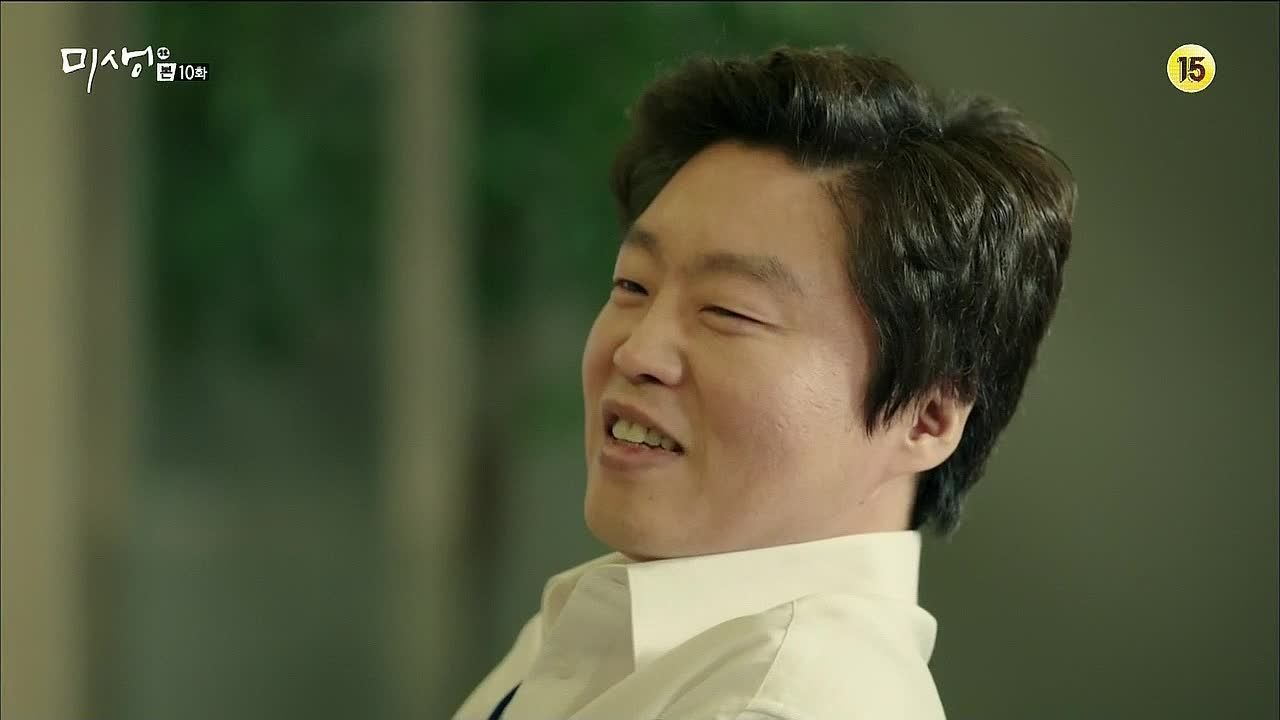 During his coffee break, Chief Park decides that he'd prefer his coffee made by a woman, and requests one of the female staff members also taking a break to make a cup of coffee for him. She politely obliges, but she and the other women silently tense up when he makes them uncomfortable with his lewd remarks (which he excuses by pretending he's actually referring to a car in the magazine he's reading, ugh).
They report the situation to Deputy Director Sun, and she immediately tracks down Chief Oh to tell him to keep a better handle on his employee. Chief Oh wastes no time in confronting Chief Park (in full view of the department), warning him that he'll put up with negligence in his work, but he won't tolerate Chief Park's verbal abuse to the weak (aka Geu-rae) and sexual harassment of the female employees.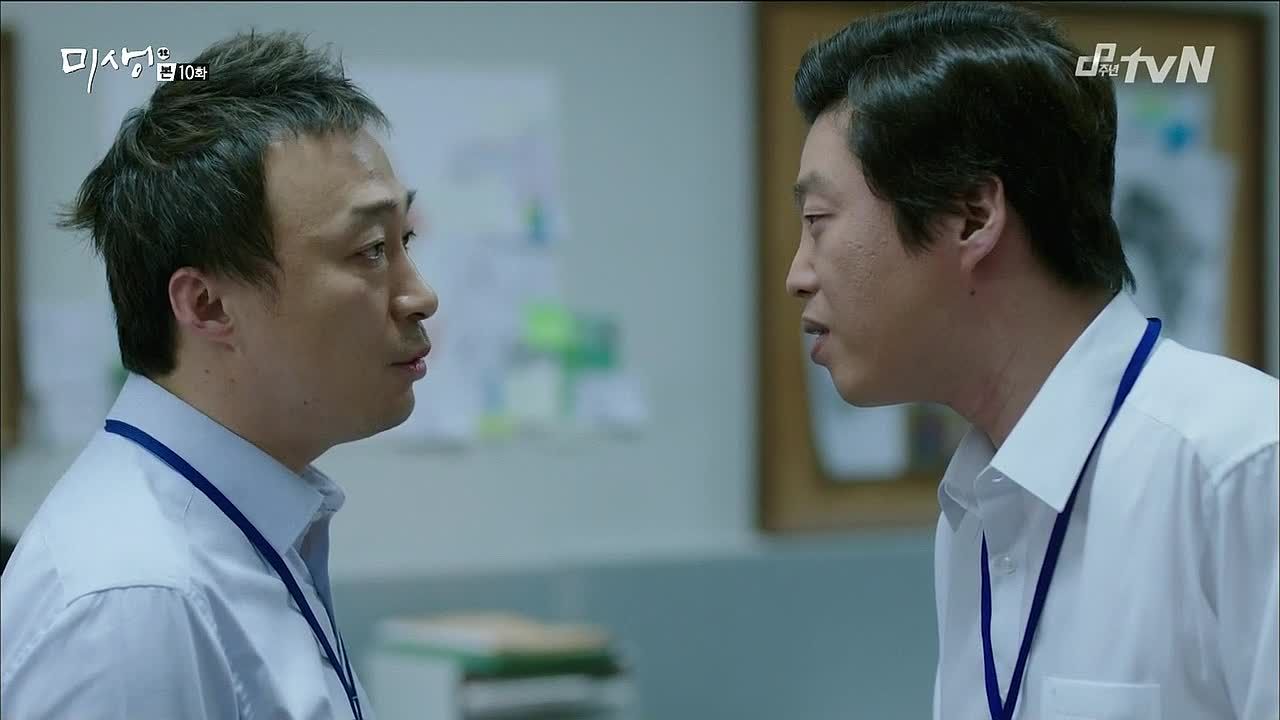 Chief Oh is in no mood to pretend Chief Park is a good team player, so everyone will focus on their own projects instead of trying to work together. Chief Park decides to start working on the Jordan used-car project since it's highly profitable, and is surprised when Chief Oh tells him to expand the project to include not just passenger cars, but construction vehicles and accessories as well.
As Chief Oh makes a cup of coffee in the break room, Manager Kim is happy to hear about the Jordan used-car project, reminding Chief Oh how useful Chief Park is to the team. The fake laugh from Chief Oh signaling his agreement seems to convince Manager Kim.
In the resource department, Assistant Manager Ha silently watches as Young-yi tirelessly cleans the workspace, jumping to fulfill the petty demands of the other department employees — even if it means struggling to replace the heavy water bottle in the break room so she can make them coffee.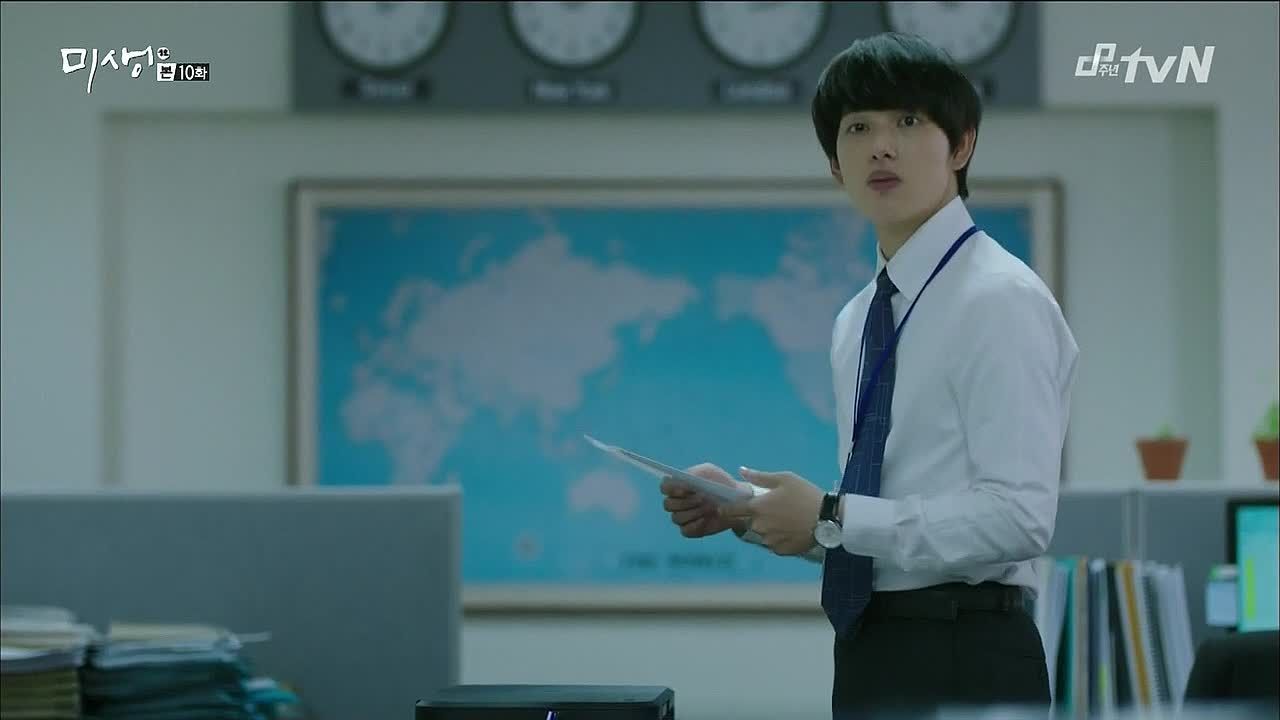 Korean tvN Drama Misaeng Episode 10 Recap 
Geu-rae finishes putting together the halal project that had been reassigned to him from Chief Park, and Chief Oh notes the look on his face, asking him if it seems strange to him. In his cryptic-Yoda way, he tells Geu-rae the reason it seems strange is because there's no trace of a big company's selfishness.
On the rooftop for a smoke break, he's surprised by a visit from Young-yi who's trying to dry her trousers after the mishap with the water bottle. He waves her over (offering to trip Assistant Manager Ha again, pffft), and she apologies for interrupting him while he was lost in thought. When he finds out she once saw the proposal for the Jordan used-car project, he asks her what she thought about it.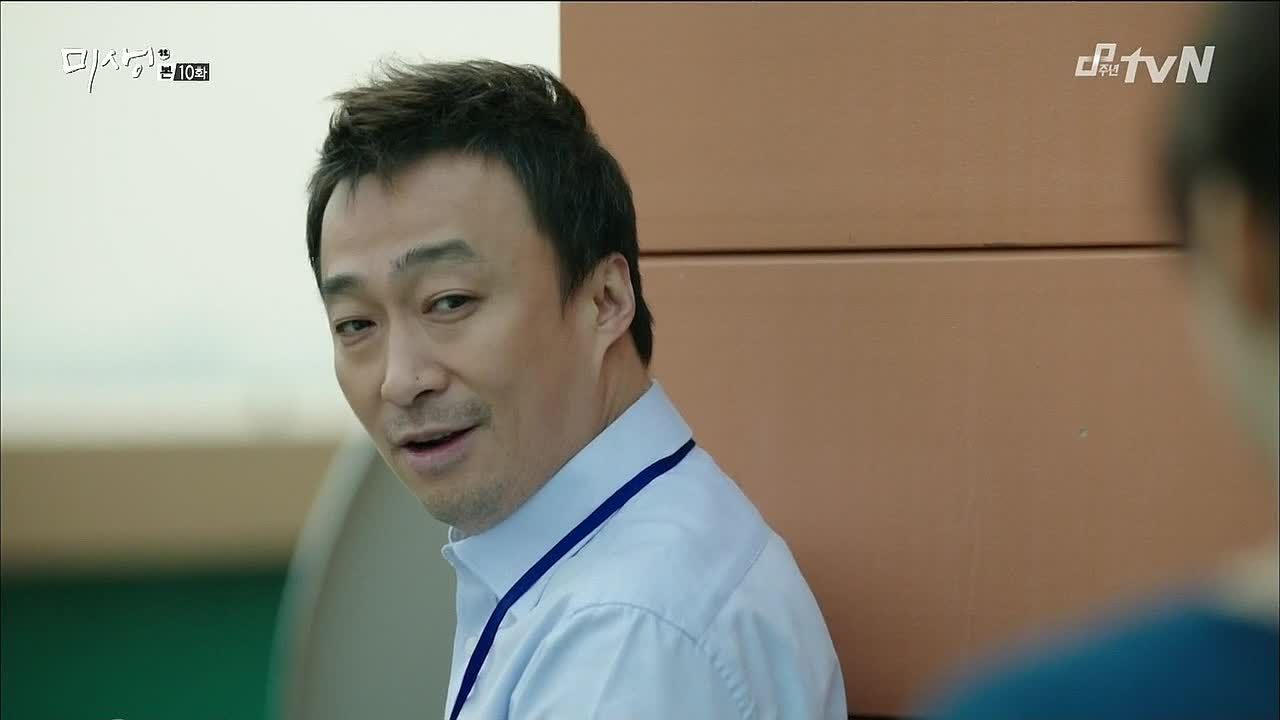 Korean tvN Drama Misaeng Episode 10 Screenshots
When she hesitates to answer, he nods knowingly: "You thought it was strange, too." Just as Young-yi is about to leave, Chief Oh asks about the guy from before, the one who so spooked her in the lobby that she excused herself from dinner. He recognized him as Team Leader Shim from Samjung Trading. She denies it, but Chief Oh says it would explain why she's such an experienced newbie.
In a place far enough away from prying eyes and ears, Chief Oh discusses his concerns about the Jordan used-car project with Dong-shik and Geu-rae. Everything looks good on paper, and it's already been approved by the legal and finance departments, but the subcontractor's profit margin seems too high.
Dong-shik confirms that it looks like Chief Park is getting a kickback from the subcontractor, but they don't know for certain. Chief Oh sighs as he says they'll now have to find out if the new addition to their team is just a lazy pig or a troublesome mutt.
Back in the office, Chief Park is busy playing day-trader, checking on his stocks — but not too busy to be unaware of the new, weird atmosphere in the department. The rest of Sales Team 3 pointedly ignore him as they go about their business, but Chief Park isn't fooled.
Baek-ki and his teammate are busy checking a delivery of steel samples in the storage room when Assistant Manager Kang arrives. He chides them for not having the samples delivered pre-sorted, and when his teammate (who was also the one who was prepared to report Chief Park for sexual harassment) immediately offers to organize it, Baek-ki insists on doing it instead.
Misaeng Episode 10 Recap 
Young-yi enters the storage room, teasingly telling him that she could hear him being scolded from down the hall. She notes that he seems to be following her method of acting like a servant instead of sticking to his previous method. In a flashback, we see him call the head-hunter to let her know that he's changed his mind and has decided to stay at One International. Yay!
She helps him with his samples, and he asks her to dinner, his treat. But when she suggests he invite the rest of the newbies, he tells her that he doesn't want it known that he was planning to quit. He jokingly adds that he regrets telling her in the first place, and it's cute how they genuinely give each other a little smile.
Assistant Manager Sung confronts Seok-yul's rudeness due to not greeting him like a sunbae — he can tolerate incompetence, but not someone who doesn't know his "place." He adds that if there's any problem, Seok-yul can tell him anything. When Seok-yul asks him if he really doesn't know why he's acting like this, Assistant Manager Sung brushes him off, saying Seok-yul should just leave his personal life at home and not bother him with it.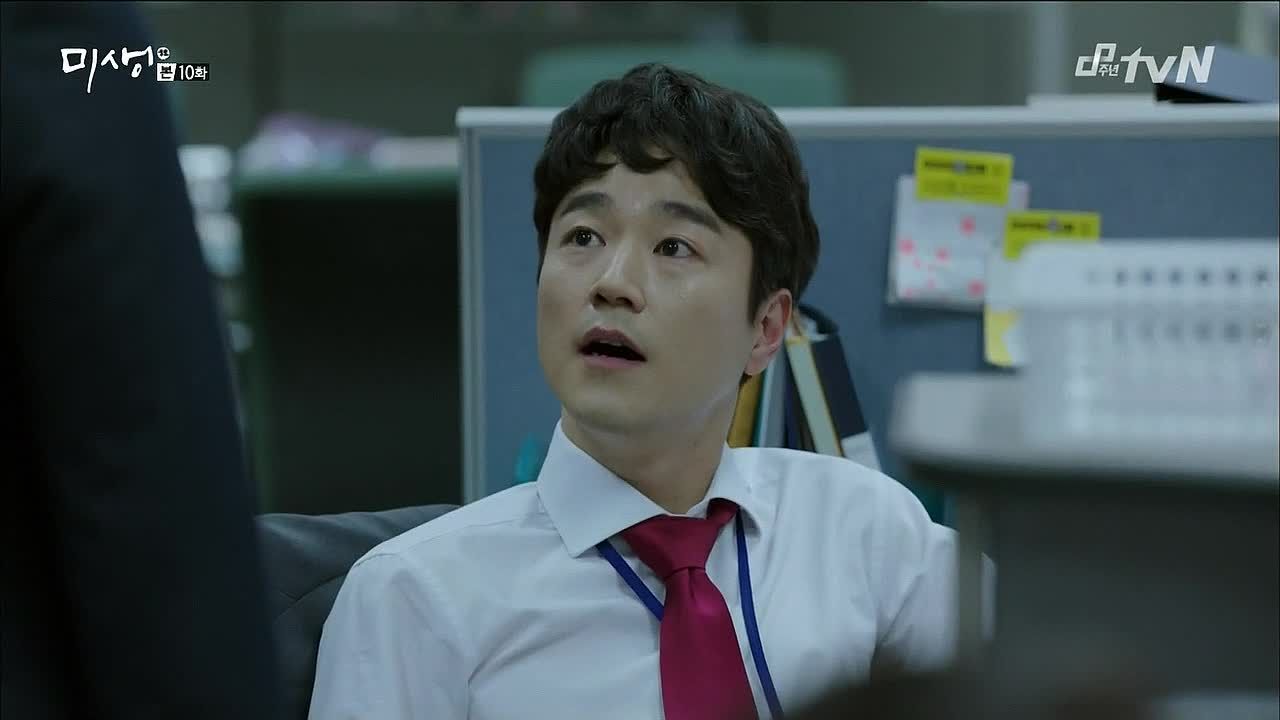 Frustrated, Seok-yul claims he has a severe migraine and is unable to work, so he'll be leaving early. Which means he won't be able to work on the projects Assistant Manager Sung was about to hand off to him.
Assistant Manager Ha is annoyed to see that his coworkers have left a mess in their department, and gets a little huffy when he's told that he shouldn't worry because Young-yi will take care of it. When they send her off to do some personal errands for them, he confronts them about abusing her good nature — she had agreed to take care of odd jobs for him, not for the entire department.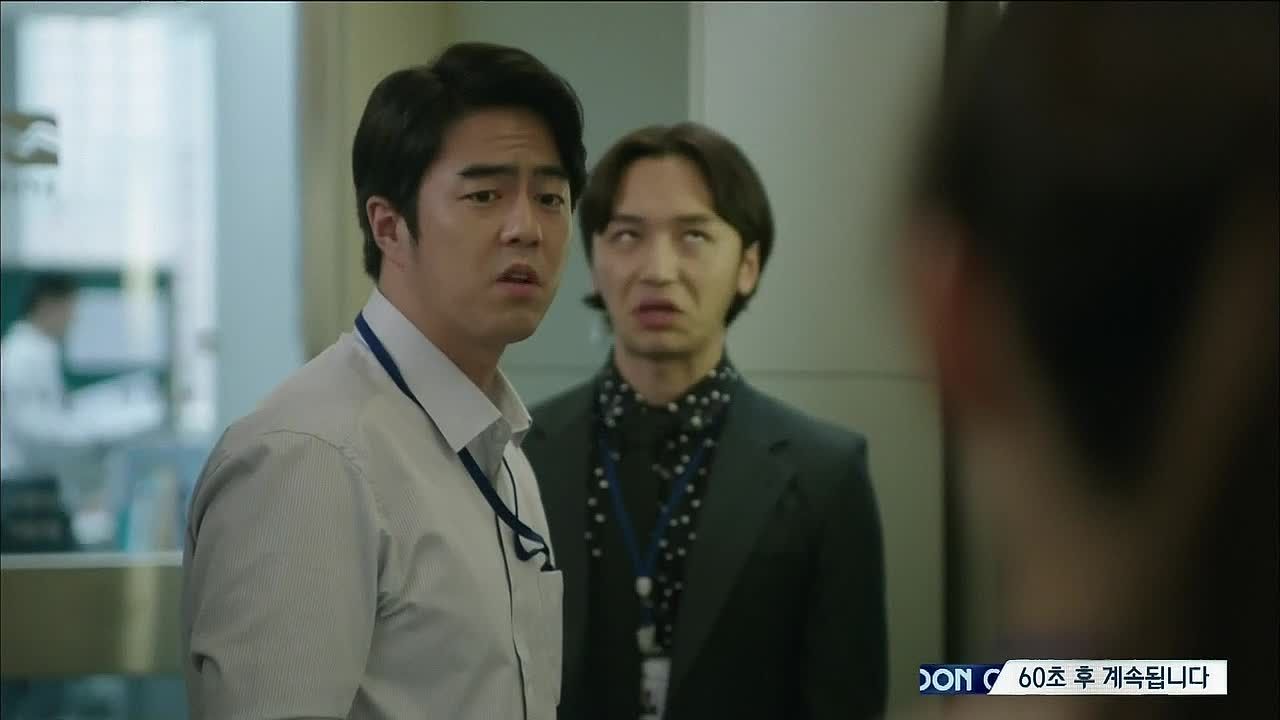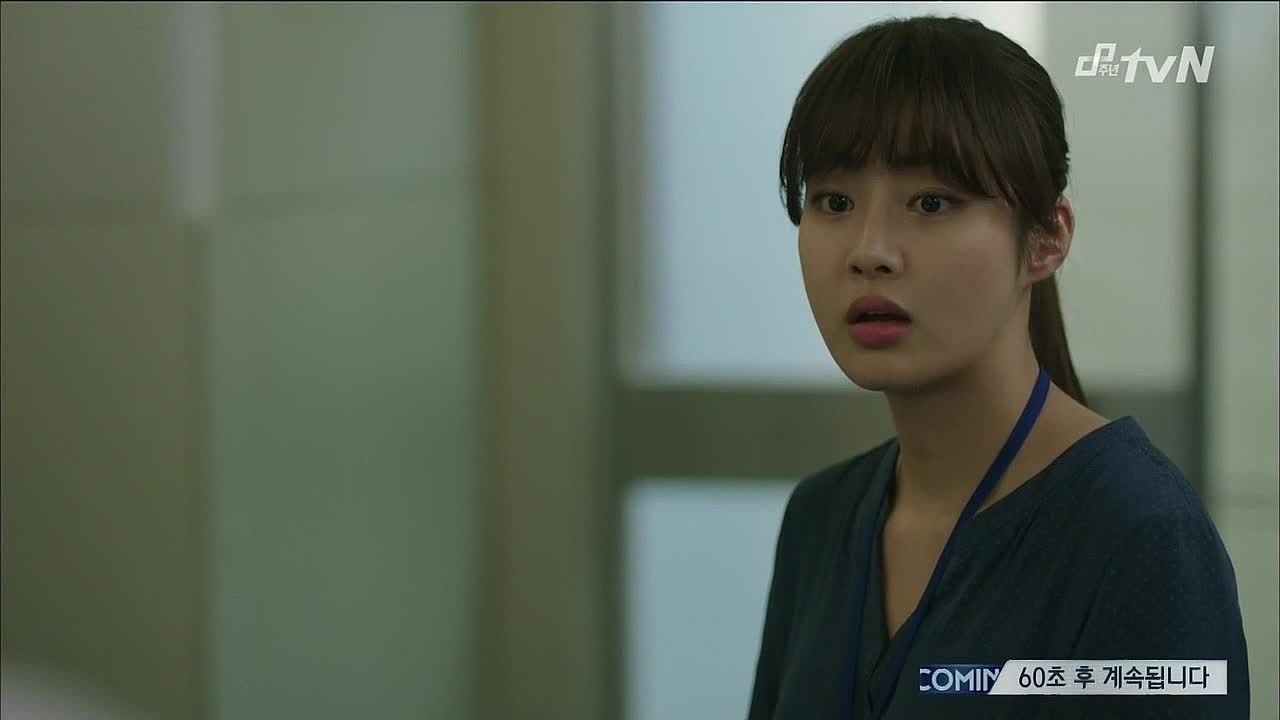 Misaeng Episode 10 Screenshots
He leaves to track Young-yi down, ordering her to immediately go to one of the factories to make sure shipments are delivered by the morning. His snotty attitude is made bearable by Seok-yul's delightfully mocking faces behind Assistant Manager Ha's back.
Chief Park is impatient for Chief Oh to make a decision on the Jordan used-car project, but Chief Oh calmly tells him he's still reviewing it. The atmosphere is pretty tense, made even more so when Chief Park asks to see Geu-rae in private.
In an empty stairwell, Chief Park says he knows that everyone is working together to stop his project. He accuses Geu-rae of just being Chief Oh's kiss-ass, and warns him that the last person who followed him so faithfully ended up getting killed.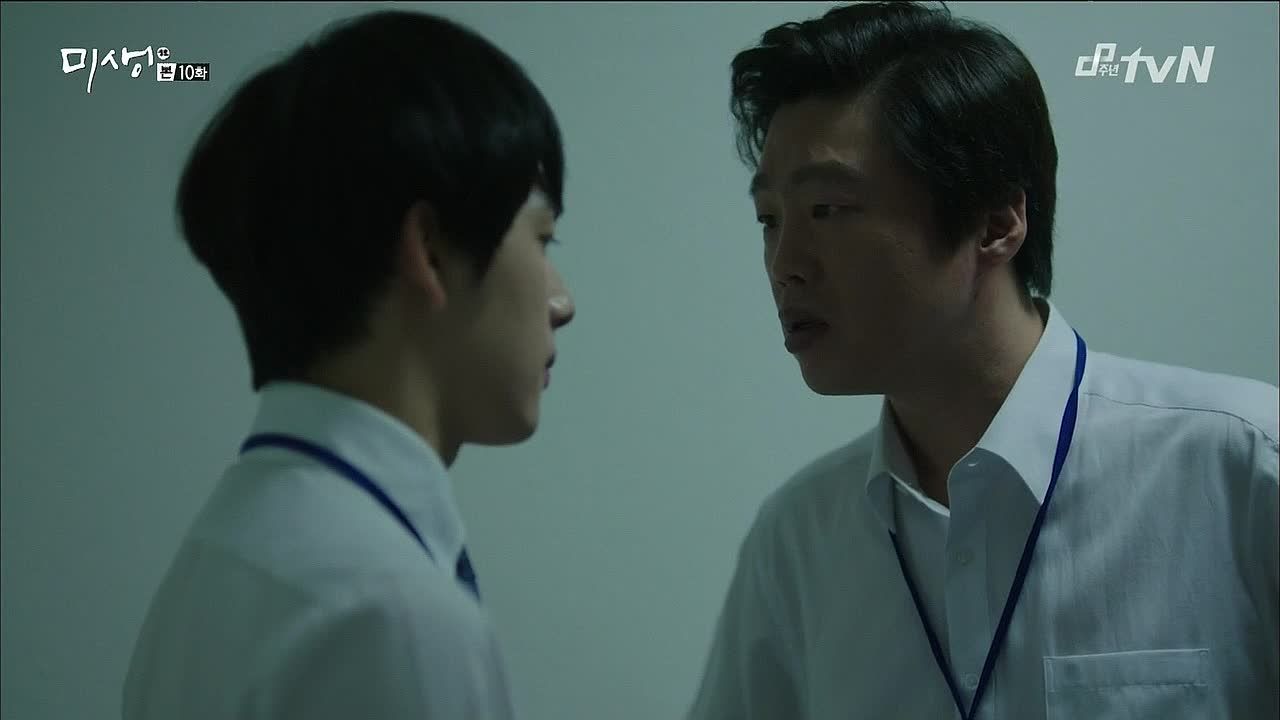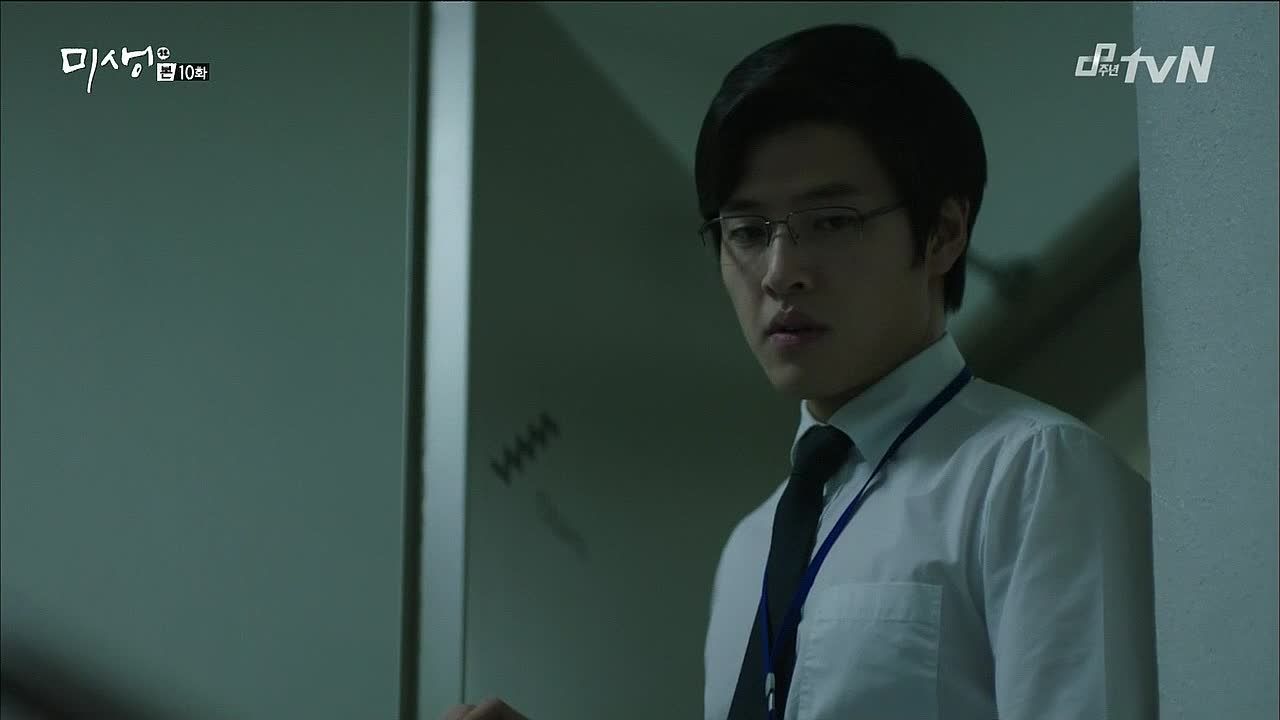 Baek-ki must be taking cues from Seok-yul, because he happens to enter the stairwell above just in time to overhear Chief Park warn that Geu-rae is making the wrong decision siding with a loser like Chief Oh — he needs to side with either the Executive Director or the CEO, someone who will actually help him in his career. He roughly grabs Geu-rae's chin as he tells him he needs to get a clue and to make sure the Jordan project gets approved.
Seok-yul has invited himself along as Young-yi drives down to the chemical company. But when they arrive, they learn that the workers have just gone on strike so the product won't be delivered in time. Worried, she calls the office, but Assistant Manager Ha isn't around. She calls her other douchebag team member, and he just sighs in exasperation as he orders her to return to the office. If she was a man, he'd tell her to find a way to get the items delivered to the port by any means possible, but since she's a woman…
Without even stopping to think, Young-yi asks the foreman if there's a truck available. Seok-yul doesn't have a drivers license, so it means she's the one who gets to drive the truck. She nervously crawls along at 25 mph, reiterating to an annoyed Seok-yul (who just wants to go back to the city) that she was ordered to make sure the product was delivered by the morning.
Chief Oh finally makes his decision, and as he hands back the Jordan used-car project, he mentions the weirdness about the subcontractor profit margin. Chief Park insists that, based on his expertise, it's not really that big of a margin margin. As Chief Oh just stands and listens to his explanations, Chief Park gets increasingly pissy and finally tells him to just forget it. Acting personally affronted, he dramatically leaves the office.
After Chief Park's sudden departure, Chief Oh quietly orders Dong-shik and Geu-rae to meet with the subcontractors, making sure they record everything in preparation of an internal audit.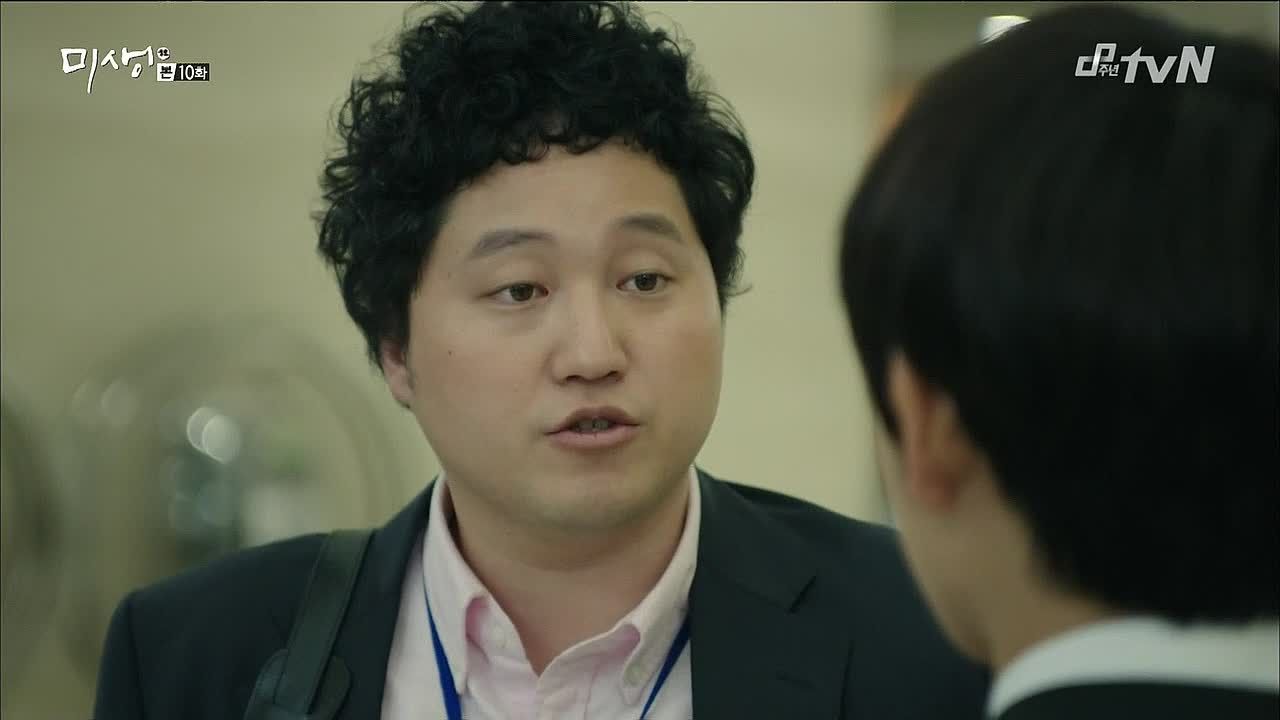 Geu-rae's worried about the potential of an audit, not to mention arriving unannounced at the subcontracting office, but Dong-shik explains that all they're doing right now is getting the facts to determine whether or not correct procedures were followed. They're not there to judge Chief Park's actions — it's up to the company to decide what to do once they figure out the facts.
As they're leaving the building, they run into Assistant Manager Ha and the resource team chief, who genially tells them to take good care of Chief Park since he was in their team. Oh, that explains so much.
When Assistant Manager Ha returns to the office, he's surprised to see that Young-yi hasn't returned yet. That's because she's still busy making her deliveries as she continues drives along at a snail's pace. Seok-yul tries to talk her into going back to Seoul, arguing that they'll never finish in time, but she's a woman on a mission.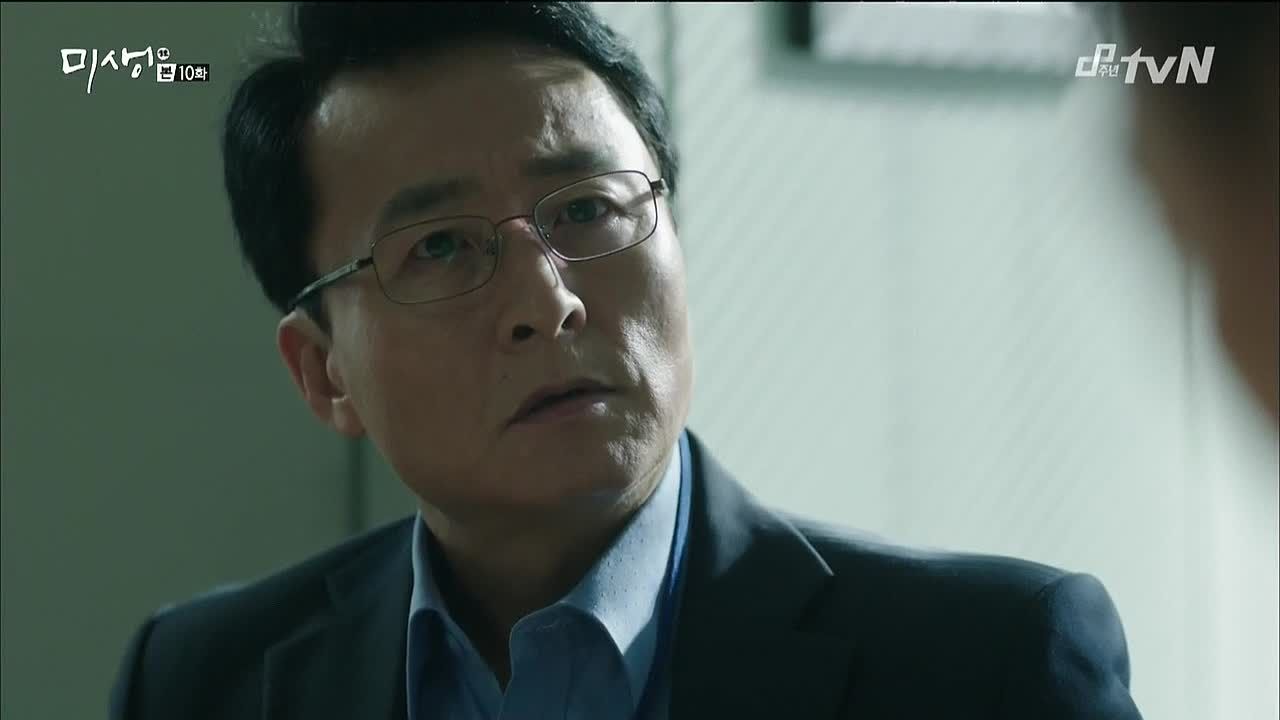 Chief Oh reports to Manager Kim, telling him his suspicions about the Jordan used-car project. Manager Kim knows that this sort of situation doesn't just implicate one person, but everyone who's approved the project — which includes himself. Chief Oh tries to reassure him that nothing's been proven yet. But Manager Kim knows that where there's smoke, there's usually a fire.
As they prepare to enter the subcontractor's office, Dong-shik gives Geu-rae tips on how to remain neutral and just focused on ascertaining the facts instead of judging the person. But they're surprised to discover Chief Park is already there, and the manager of the subcontracting company greets them cheerfully.
Chief Park is ready to escort them out, smoothly telling them that he can answer any questions they have about the project. But Dong-shik stands his ground, telling him that they're here to double-check that correct procedures were followed.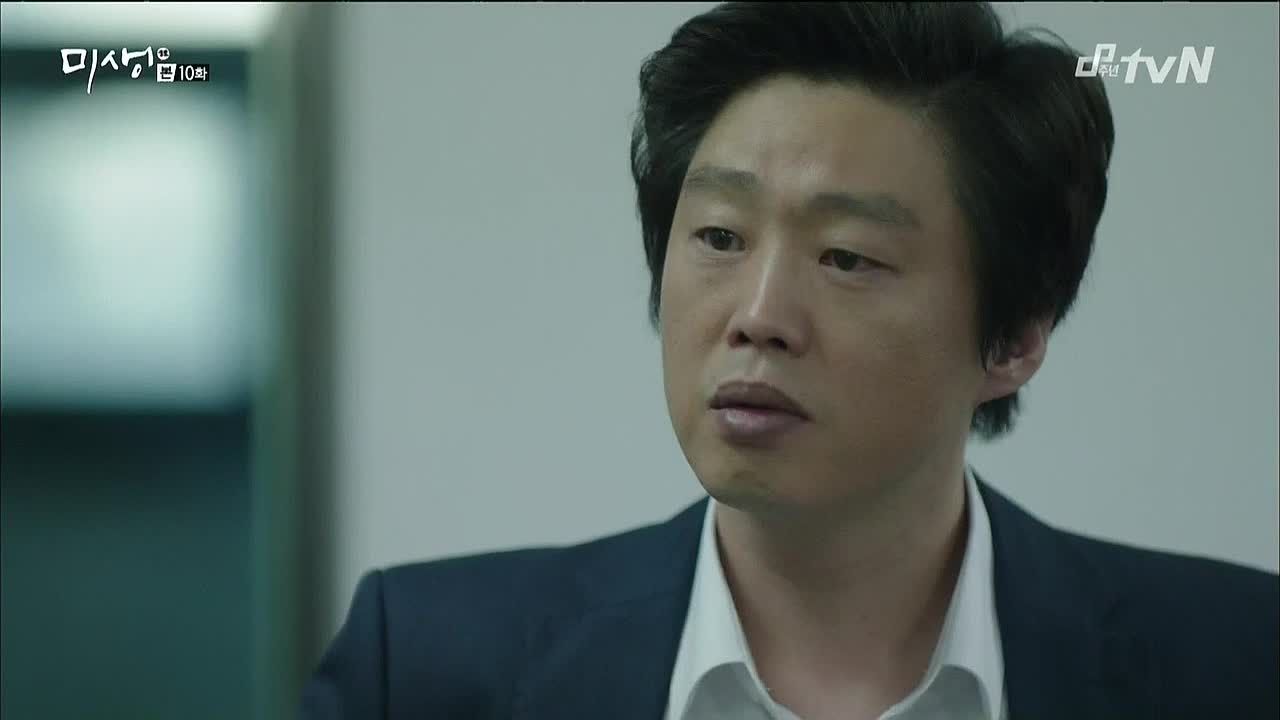 Chief Oh wrestles long and hard with what to do next, knowing that his decision to proceed with the audit could mean his manager would be fired. But just as he's telling Dong-shik to withdraw from the investigation, his office phone rings — it's Manager Kim. Chief Oh quickly tells Dong-shik he'll call him back before hanging up.
Gloating, Chief Park tells Dong-shik that of course Chief Oh would drop the investigation. And Chief Oh is definitely about to, as he stands humbly before Manager Kim. For the benefit of Manager Kim and the company, he promises to stop the audit and instead take care of matters quietly within his own department. He only requests that Chief Park be reassigned to another team.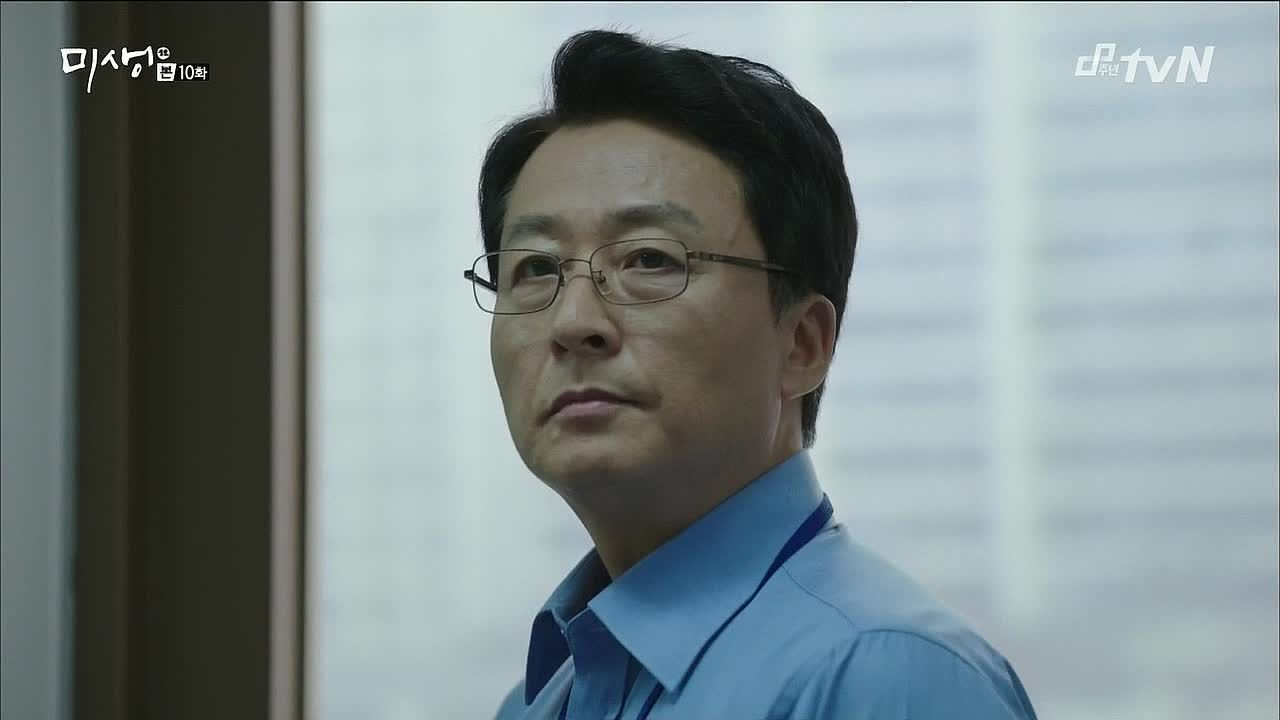 But Manager Kim surprises him by ordering him to continue with the investigation — the correct procedures must be followed.
As Chief Park cheerfully discusses personal plans with the subcontracting manager, Dong-shik's phone rings. Chief Park and the manager are confident that they're in the clear, so it's a shocking blow when Dong-shik calmly tells them that the audit team will be arriving soon.
Furious, Chief Park takes Dong-shik outside to talk to him privately, and Dong-shik orders Geu-rae to stay behind, and for the subcontracting manager to not touch any documents. But as soon as Dong-shik leaves, the manager is on the phone, filling the executive director of the subcontracting company in on everything. Geu-rae quietly pulls out his phone and starts recording the conversation.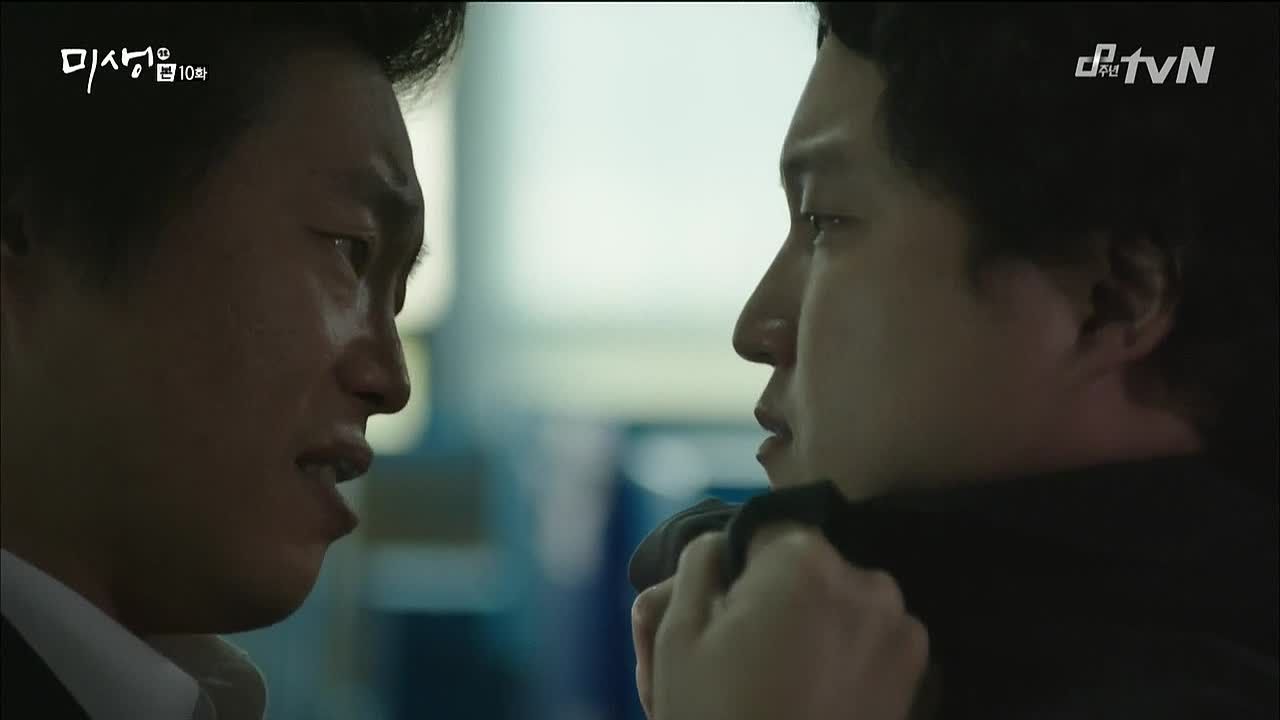 Chief Park tries to bully Dong-shik into stopping the investigation by threatening to call Manager Kim and the executive director, warning him that they'll be on his side, not Chief Oh's. But Dong-shik tells him that Chief Oh will be meeting with the executive director at that minute, so his call is in vain. Furious, he grabs Dong-shik by the collar, demanding to know why he's doing this to him.
The subcontracting manager gets a phone call that makes him suspiciously happy, and Geu-rae keeps a close eye on him as he sends a fax. In a baduk game-theory voice over, Geu-rae says that it's time to retaliate against their opponent. They're putting their lives on the line as they navigate enemy territory, and whichever side makes the first mistake will lose.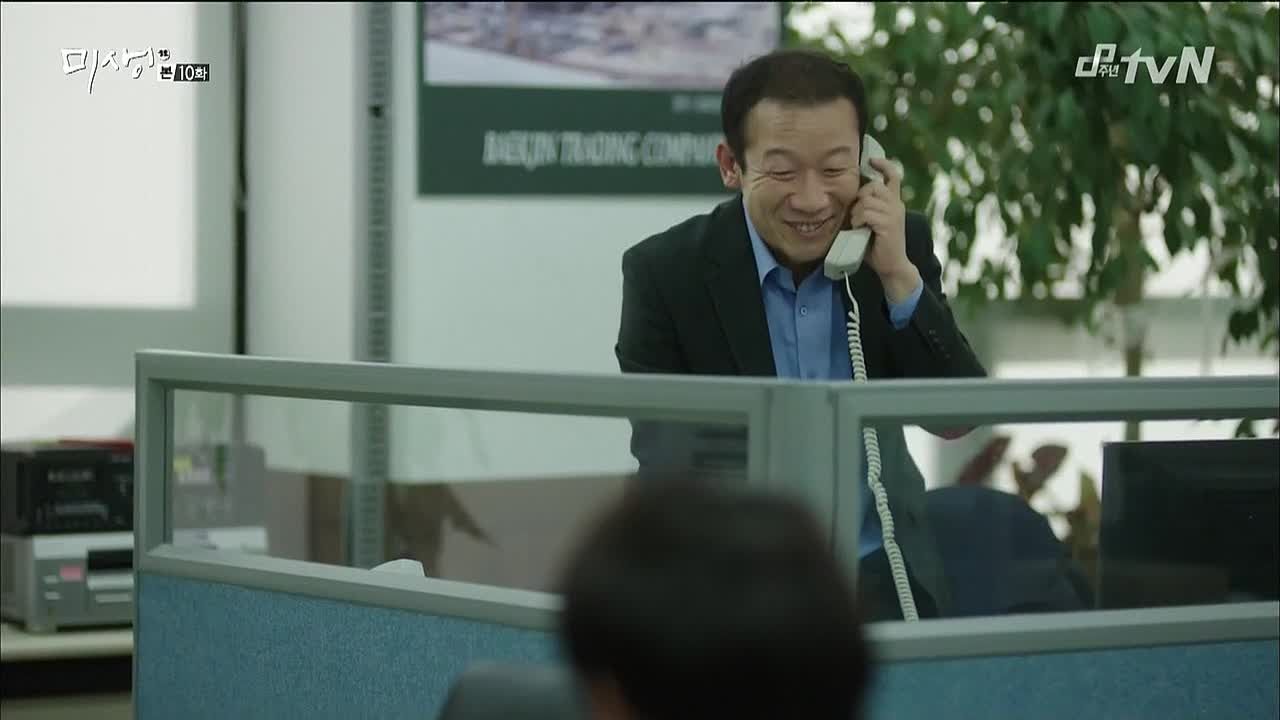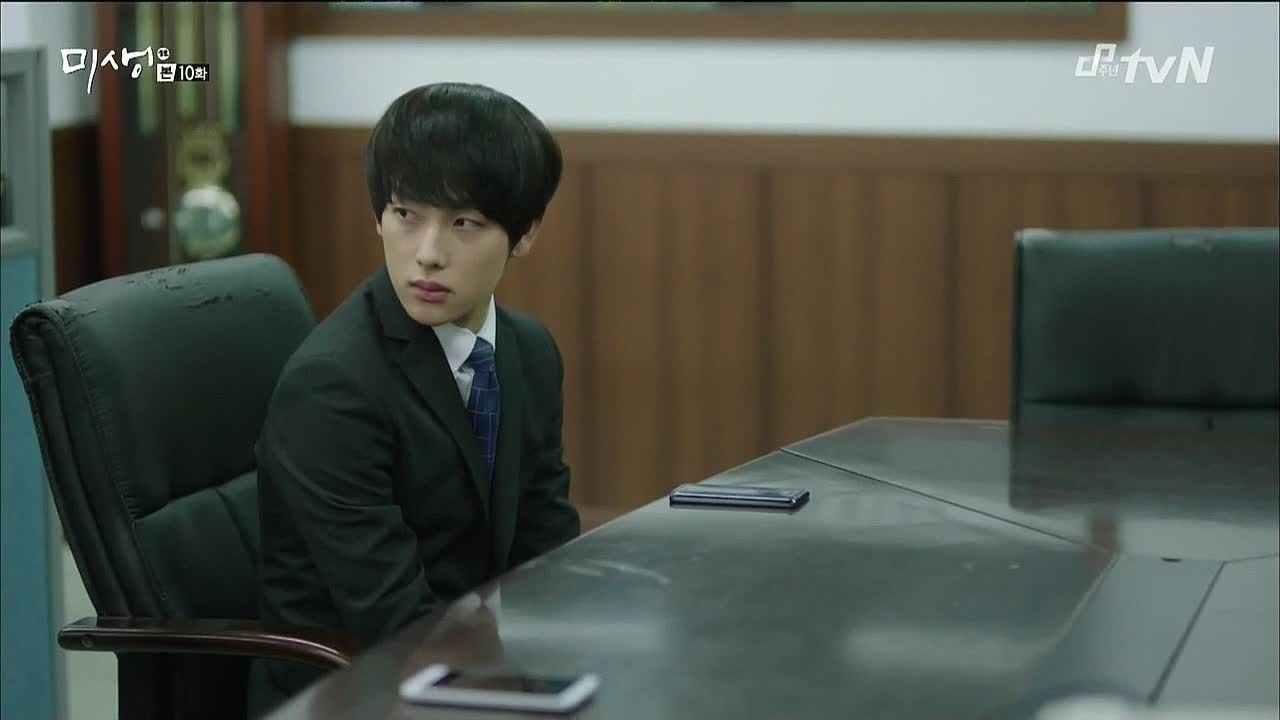 As the audit team arrives (along with Chief Oh), Geu-rae's voiceover continues, pointing out that in such an important situation as this, one must not be too rash or hasty. As they proceed, they must not make any mistakes, and it's clear that if their opponent doesn't die, then they'll be the ones to die.
The audit team carefully combs through all the documents, but the subcontracting manager explains that their high profit margin is justifiable with a fax he just received from Jordan. That's enough to satisfy the auditors, and Chief Park gloats once more while Geu-rae tries to figure out why (in baduk speak) it feels like he wants to make a "move," even though he's not confident what that move should be.
He suddenly realizes that the manager was speaking Korean when he called the Jordan company, and suddenly asks if someone in the company is Korean. This stops the auditors in their tracks, because their research shows the company is solely staffed by Jordan locals.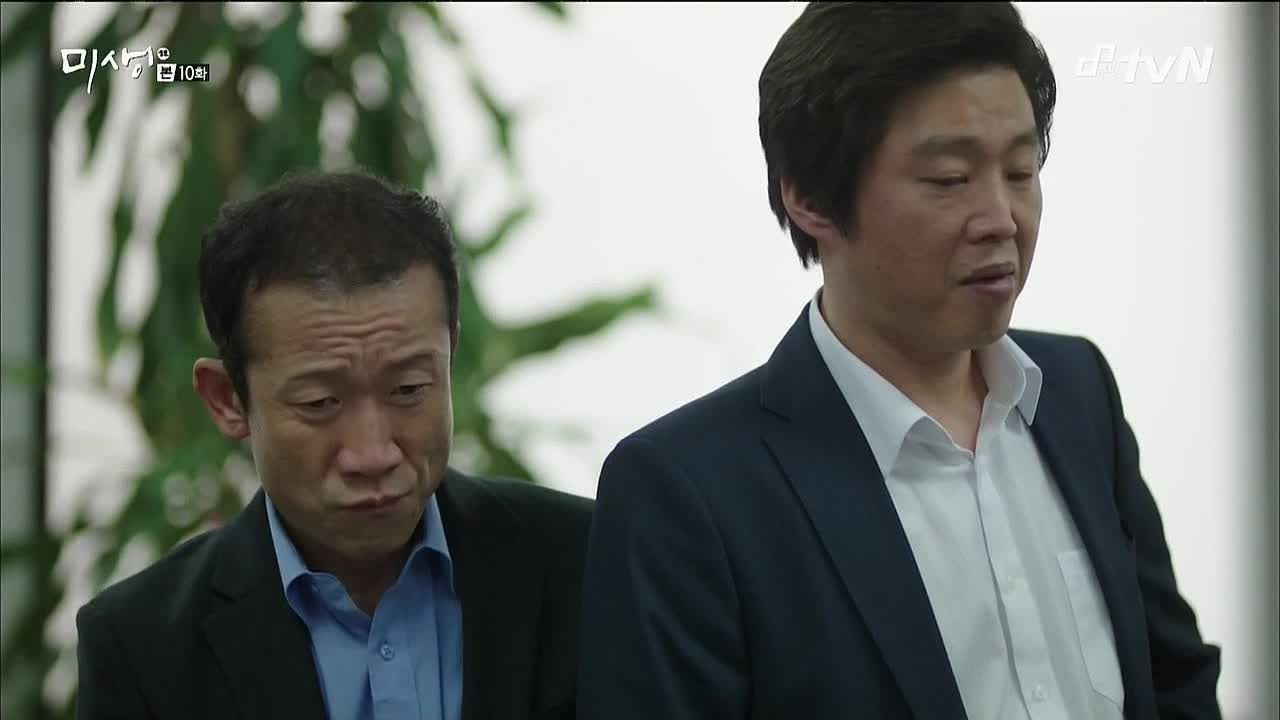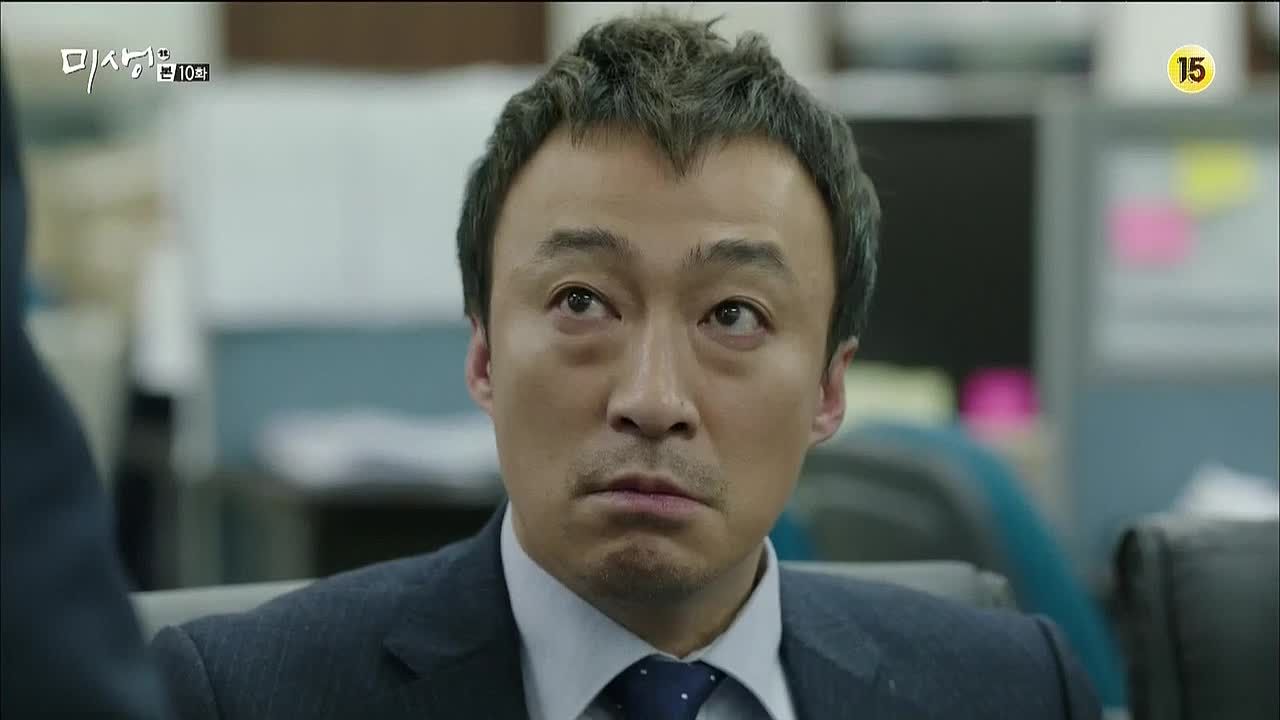 They discover a common name on the documents — a Muhammed Indira — and Chief Oh asks if he's an executive. Suspiciously, the subcontractor manager says he's the marketing director at the same time that Chief Oh says he's the general manager. This Muhammed Indira turns out to be Korean, his real name Park Sang-joon, and is also confused about his job title.
The auditors get the investigation officially rolling again, but Geu-rae is doing his own investigation to find out the answer to something that's been bugging him. He tries calling Young-yi for help, but she's too busy driving to answer. His next option is Baek-ki, and, yay! Baek-ki agrees to look into it for him.
Meanwhile, Chief Park is totally losing it. As the audit team tries to figure out why Park Sang-joon lied to them, he interrupts, passionately claiming that since approving the high profit margin was his mistake, he'll take responsibility.
Chief Park continues to bluster, and Geu-rae once again uses his baduk knowledge to point out that in order to understand the current move, one must understand the previous moves. Baek-ki texts him with the information he was looking for, and he realizes that what might have looked like a small problem (whether or not Chief Park was getting a kickback) might not have been so small after all.
It turns out that the executive director of the subcontracting company is actually Chief Park himself, just using his English name, and the rest of the employees (including the one who was assumed to be in Jordan) are Chief Oh's extended family.
As they watch Chief Park being escorted away, Chief Oh says he probably thought his actions were just compensation for his hard work. He explains that in 2008, Chief Park had played a major role in getting a big contract, and after only being awarded a celebratory dinner, had returned to the office, disenchanted that everyone went back to their normal roles.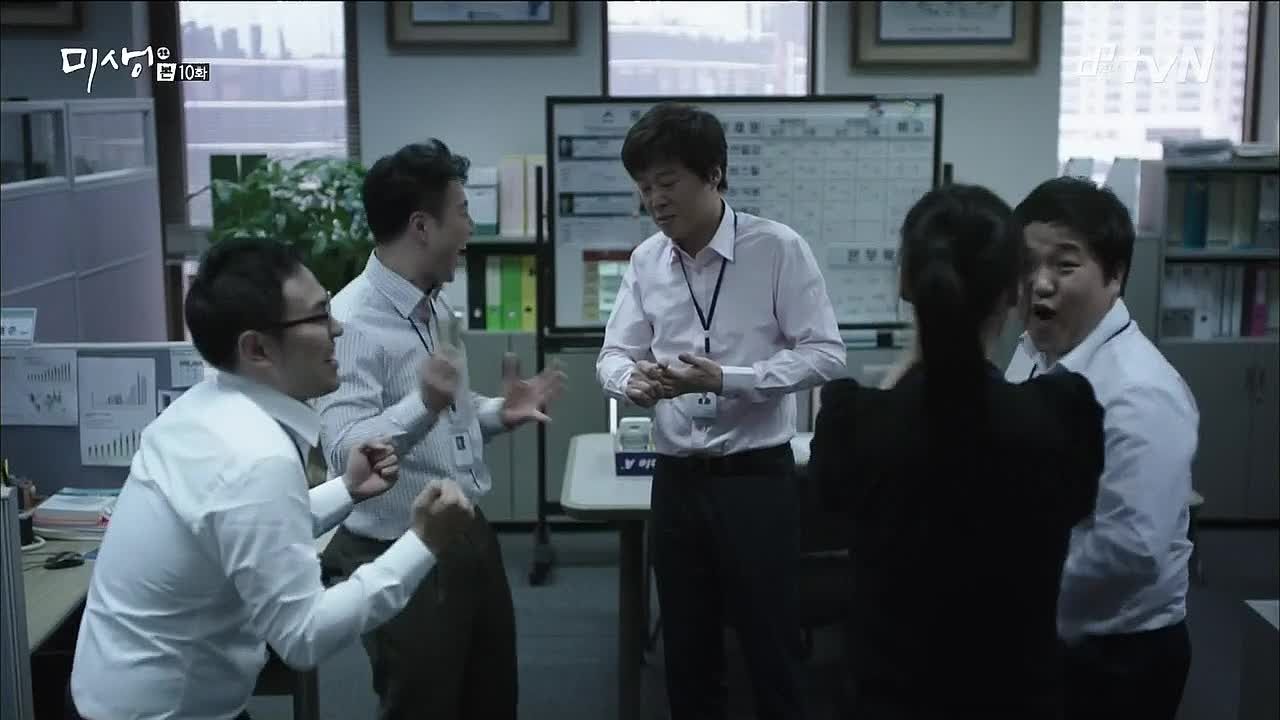 The lure of money as compensation was too strong, and he willingly accepted any bribes subcontracting companies would offer (if he didn't outright ask for a bribe), until he was clued into the possibility of making his own dummy corporation that could be awarded the contracts, so he would automatically get the extra money.
Dong-shik wonders how it will end for Chief Park. To those outside the company, it looks like a triumph of good over evil. But the corporate world has its own rules.
Assistant Manager Ha is working late at the office, and only wraps up his project after midnight. He's a little concerned that Young-yi never returned to the office, and calls her up to yell at her for going straight home instead of to the office. But when he finds out she's still driving to make sure everything is delivered to the port by the morning, he curses her out, demanding she return immediately. The deliveries don't actually have to be done by tomorrow, and he'll call someone else to take care of it.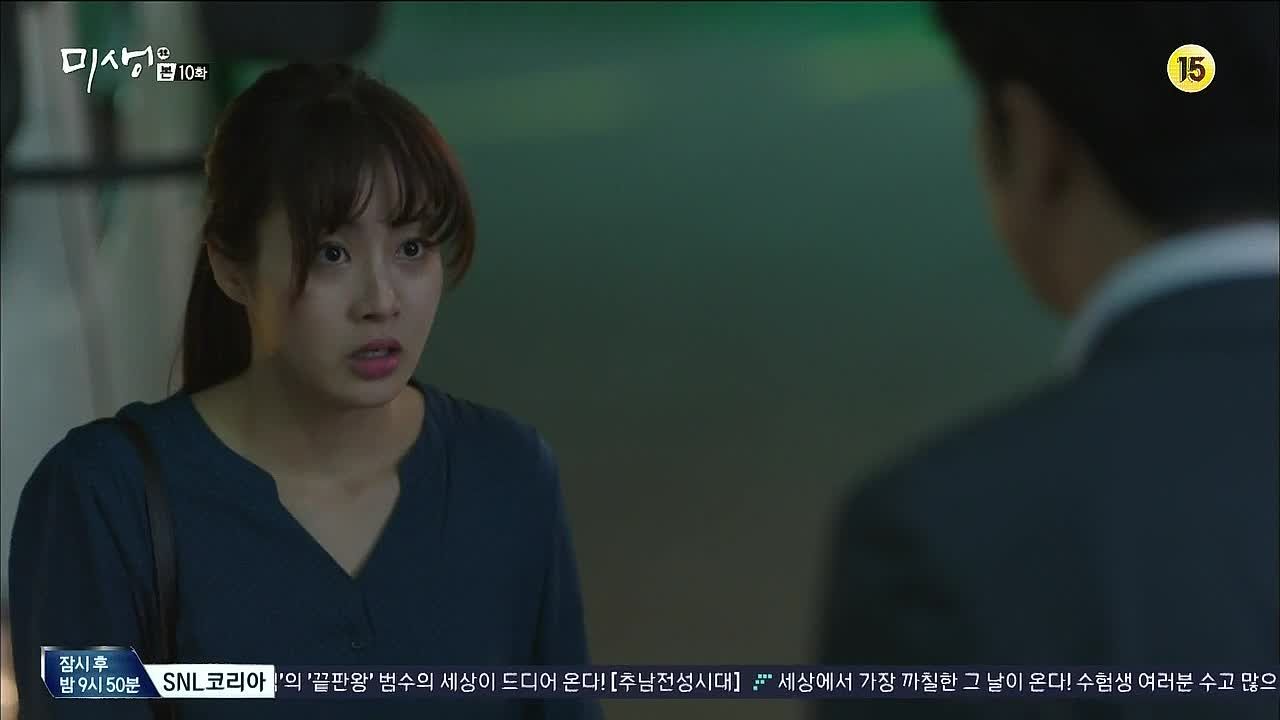 Seok-yul is irate on Young-yi's behalf, but she just silently drives on as she wearily fights back tears. They finally return to One International where Assistant Manager Ha impatiently paces, waiting for them. Once again, he curses her out for being so crazy, warning her that if she got into an accident, the company would be liable. Pfft, his astonished expression at finding Seok-yul hiding in the truck's cab is hilarious.
The next morning, Manager Kim and Chief Oh silently wait in his office. Dong-shik explains to Geu-rae that lower-ranked employees like themselves don't have to worry so much — most of the blame will be placed on those in higher positions, like Manager Kim. Depending on what the auditors find out, there's a strong chance that Manager Kim will be demoted or lose his job.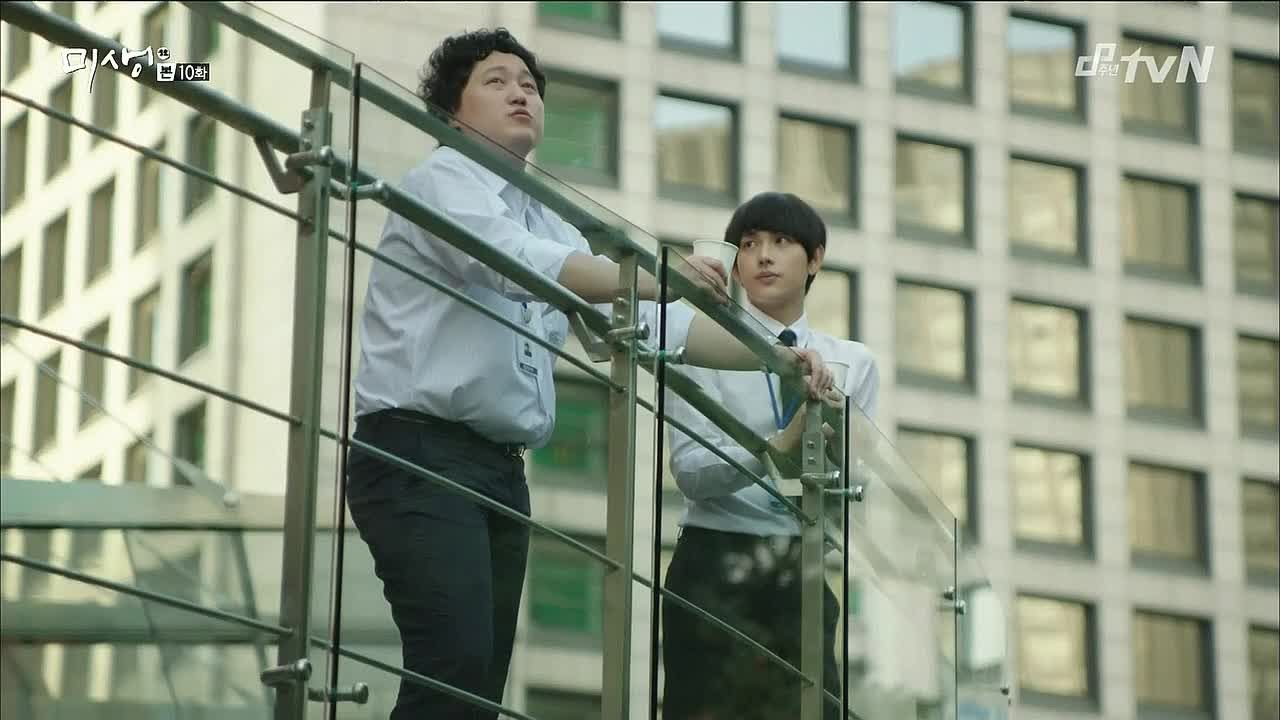 Dong-shik adds that even though he's just a worker bee and it seems like his actions have no impact, it's still his work and his life right now. Geu-rae adds that "it's just baduk." No matter if you win or lose a game, it's still just a game — not the end of the world.
In a voice-over, Geu-rae adds: "Regardless of the world, it's still baduk, which is everything to me." He thinks back to all the "games" his fellow coworkers have had to play as they navigate office life, and as he watches the lights go out on the One International building, he smiles. This "game" of baduk may seem pathetic, but it's still baduk, it's still his work, and it's still the world to him.
COMMENTS
One of the difficulties in recapping a show like Misaeng is that there is so much subtle nuance that's hard to capture on the page, and sometimes it's a struggle to accurately convey each little gaze or expression. The show relies on an undercurrent of emotion, expertly conveyed by the actor's mannerisms (however slight), editing, backing soundtrack, camera angles, and even just the way they let the camera linger for an extra beat.
There's not enough space to accurately describe and give weight to the minor ways in which each actor seems to inhabit their character — the micro-expressions, the exchanged glances, or even just to explain that since we've spent ten episodes in such close emotional proximity with everyone, we can understand what they're thinking just by the way they're sitting.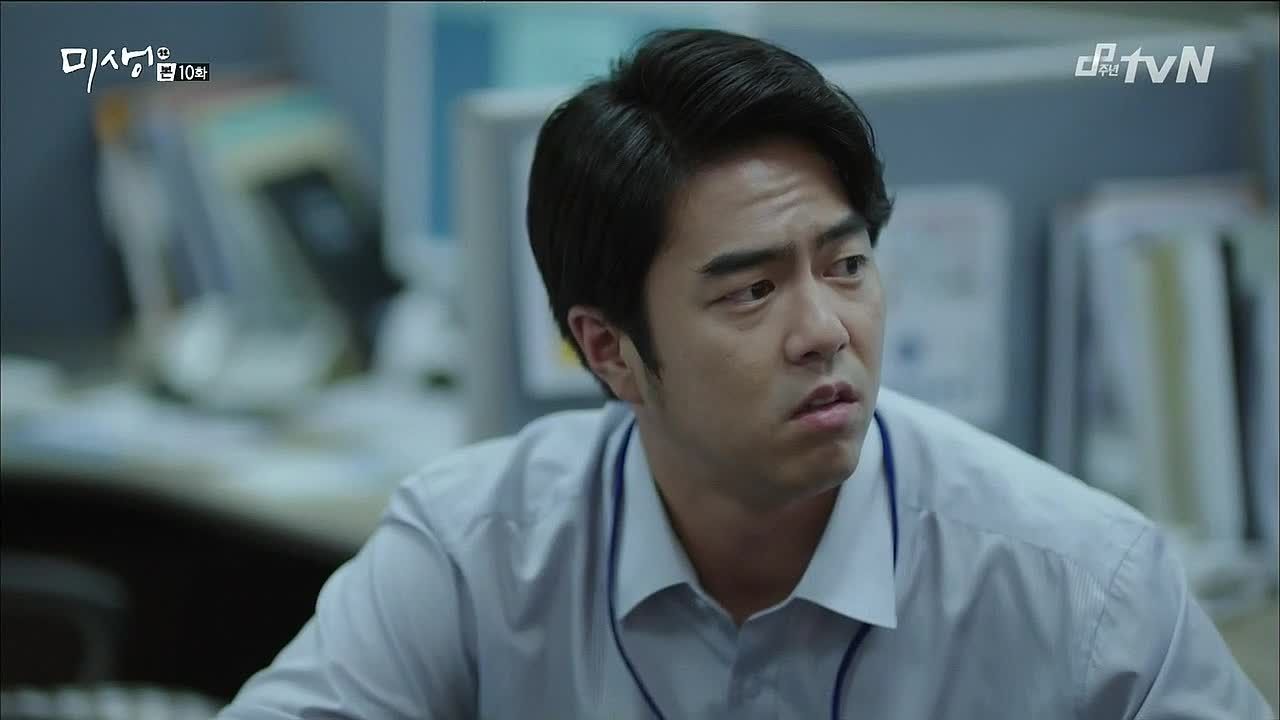 Which is why it may seem foolish if you're just reading the recap, but I'm impressed at the small way the show is managing to humanize Assistant Manager Ha. Yes, it seems impossible, especially since his words and actions are still rough and cruel. But the character, in those impossible-to-define ways, is managing to convey a sense of discomfort with how Young-yi is being treated by his department, and even possibly feeling some twinges of regret at how he's treated her as well.
That's not to say I like him — nope, he's still got a long way to go. But I can see that he's starting to appreciate (and even respect) Young-yi's skills and work-ethic. Even though the trip to the chemical factory didn't end as well as she hoped, I'm fairly certain he sent her away just so she could stop being the department's glorified maid. He may not have handled it smoothly, but from the small ways he reacts to his surroundings, I do believe he feels some shame for the way he's treated her, even if he's too proud to admit it. I'm still waiting for him to really apologize and work hard to make amends — but I'm not going to hold my breath. After all, this show can definitely change our minds about certain characters, but it still doesn't pretend anyone will suddenly become a saint overnight.
It definitely seems easier to slip down the "darker" path, as evidenced by Chief Park. In the flashback, he seemed like your standard salaryman, but his pride and ego at winning a huge contract — and then not getting the recognition (or reward) that he thought he deserved — meant he was willing to go down that slippery slope of making his own compensation. I'm not sure if the sexual harassment is a by-product of his new-found "forget you, I'm going to get mine" attitude, but it definitely cements him as one of those crush-anyone-to-remain-on-top employees. Unfortunately, it didn't work out so well for him in the end.
I have to wonder if he would have gotten away with it if he had been assigned to any team but Sales Team 3. The show keeps pointing out that Chief Oh can't move up the ladder because he cares too much about doing a job correctly than getting it done in a snazzy manner that will attract the attention of the higher ups. It almost seems like Manager Kim was asking Chief Park to get caught, except that doesn't make sense since it looks like Manager Kim will be facing his own punishment as the one who originally signed off on the Jordan used-car project. (A project that makes me wonder if that's the reason for the opening scene in the first episode.)
Another problem (that isn't exactly a "problem") with recapping Misaeng is this show is chock-full of goodies that could easily have me discussing them for ten pages, so I'll just end with how delighted I am to see the newbies not just working together, but inspiring each other. Young-yi's determination to find a "whatever it takes" solution to make sure the chemical resources were delivered was influenced by Geu-rae's effort to do all he could, even if he wasn't qualified. Geu-rae realized that Baek-ki was correct in his method of sticking to the procedures. Baek-ki's accepted that perhaps Young-yi's method of humbly working the crap jobs is perhaps the best way.
I'm looking forward to seeing how they can continue to encourage and motivate each other further, especially in an office environment that still does all it can to destroy an idealistic soul.